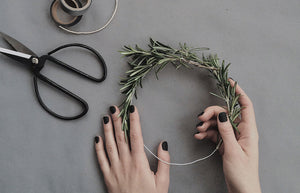 It's New Year's Day. A great time to start a wreath blog here at, Oregon Holiday Wreaths. I'm reflecting on what a great year we had in 2019 which ended at our craziest time of the year, Christmas and Hanukkah. Many things mixed in made it such a great year. Though I believe what has risen to the top of the mix is experience. As a decorator for over 30 years of practicing my skills, I've learned that creative things ebb and flow like the ocean's waves. So experience can prove helpful if everything remains the same each year and you repeat what you did the previous year, but we all know that's not how life and business work. Certainly, creative things do not work that way.
So how does experience help me? When an idea for a new wreath comes to me, I'd like to say I know without a doubt everyone will love this new idea gleaned mainly from my experience. That I feel fully confident that all the supplies I will buy to make a gazillion wreaths of this type will be a profitable investment. Once I make the prototype, take good pictures, and have them available to buy, my new designs will fly off the shelves, right? But in reality, all I can do is assume everyone will love my new designs as much as I did when I created them in the first place - so experience moves me in the direction of assuming they will fly off the shelf and my audience will love my new design.
As an entrepreneur, I try to understand the changing demands and trends in the wreath industry. After all the fresh evergreen wreaths are 'sold out' and our entire team collapses from exhaustion during this fore mentioned, crazy time of the year, there is a window of time when, as the owner and designer at Oregon Holiday Wreaths, I use my experience to perfect old designs and create new ones. In reality, this happens year-round, but always after a huge season, while the feelings and smells are so fresh, my creative mind cannot shut off that experience. Without hesitation, this knowledge guides me to form effective designs that chime with our ideal audience. Sometimes I have to hold and ponder my new creations because super busy seasons need rest and relaxation to recover. But as for me, new designs are still racing through my head as I look forward to vacationing with family in a couple of weeks. Deep breath in and out. That said, there's never a wrong to create is there? 
I relish my business experience and look forward to gaining new wreath experiences. Because without all the experiences I wouldn't be able to aspire to new ideas.