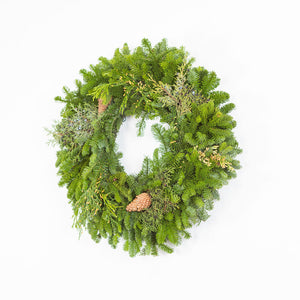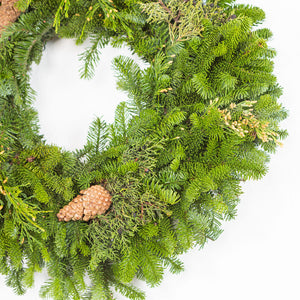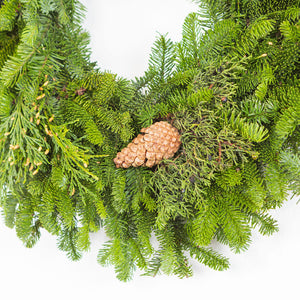 Willamette Green Wreath
Product Begins Shipping: November 6th, and ends Dec 10th, 2022. Buy now and we'll ship at a later date for you.
Sending Gifts to Friends & Family?
Did you know you can send gifts to friends, family, and yourself in the same order? Simply enter where you'd like each item shipped. You can ship to different addresses in the same order!
DESCRIPTION
There is no better way to welcome family and friends than with this thick and full fragrant Christmas Wreath—adding a festive touch to your home. Naturally adorned with evergreen Douglas fir needles, juniper berries, and pinecones—all from the Pacific Northwest. 
---
FEATURES
Fresh aroma

Various sizes to fit the door/space

Fresh cut and bound authentic greens and pinecones from the Northwest

Sturdy wireframe for artistic design

Easy to hang
---
MATERIALS
Wire Wreath Frame

Noble Fir

Douglas Fir

Two Pine Cones

Splash of Holly
---
SIZES
*Quality standards are important to us but from time to time the actual diameter of the Wreaths may vary between 1-2 inches.
---
SUSTAINABILITY
As a company, we're conscious of the environment and doing everything we can in our operation to preserve the beauty of the Pacific Northwest with minimal impact.
View our Sustainability page
---
ORIGIN
Made in Portland, Oregon
Shipping & Returns

We ship FexEx Ground. Shipping time ranges between 3-4 business days. During the holiday, it can be longer. Please allow timing for the holiday season as there can be delays outside of our control.

100% satisfaction guaranteed. If there is a problem with your order please contact us at support@oregonholidaywreaths.com

Our goal is to provide you with quality wreaths in a timely manner and provide you with excellent customer service. If there is a problem with your item (damaged or you are dissatisfied) please contact us within 24 hours of receipt of your item. Please do not return an item without contacting us.

Sustainability

Oregon Holiday Wreaths views have always been to bolster and assist our local beauty. We thrive on being conscious of our environmental surroundings while providing the best, fresh organic evergreens in each and every one of our products. This means all our fresh boughs are trimmed from the lower branches and only from younger healthy coniferous trees from high altitudes of the Great Pacific Northwest.

As a company, we're conscious of the environment and doing everything we can in our operation to preserve the beauty of the Pacific Northwest with minimal impact. View our sustainability page